Many of our clients ask us what extensions are best for their hair and lifestyles so we're here to clear it all up…
Here at the salon we carry out 2 types of extensions; Easylocks and Fusion Bonds. With Fusion bonds being the most popular with our clients.
Easylocks are bundles of hair attached to a section of your own hair by a metal ring that is clamped in place. Whereas Fusion bonds have a hard glue at the end of the strands which is melted and wrapped around a section of hair. It is now time to dispel the myth that this process is damaging to your hair… it isn't, the heat is focused on the glue and has limited time on your own hair. Below are a few of the pros and cons of each type: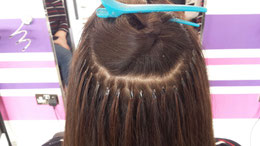 Easylocks Pros
No heat or glue is used

They can be moved up between appointments and top ups are possible
The link is flat against the head

 

Slightly less tension on the natural hair
Easylocks Cons
 

They can slide down the natural hair

They may slide slightly more on naturally smooth and soft hair
The links may not match your hair completely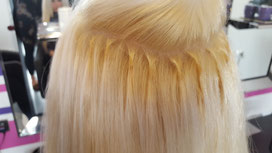 Fusion Bonds Pros
The clear glue is less visible and easily hidden
They last as long as you keep the hair in good condition or they grow down too far
Fusion Bonds Cons
They are rolled so the join isn't flat
They are not open to maintenance; they can only be removed and replaced
Slightly more tension on the scalp
All extensions can be uncomfortable for the first few nights sleep as the bonds are close to the scalp and haven't soften at all. If you can get passed this, you will be fine for the remaining time you have them in. 


We use 2 different volumes of extensions in the hair, either a full head or half head. A full head creates both volume and length but if you are just looking for volume a half head may be sufficient. Extensions are not a magic wand, if you have bobbed hair you will not achieve a realistic waist length style but they can give you enough length giving your hair time to grow. Blunt haircuts will need to be layered through to ensure the extension blend.
Home Maintenance
Extensions require effort from you at home to keep them in good condition and to avoid damage to your own hair. Firstly, you will need to purchase a few must have items including, a tangle teezer, a good serum or oil for moisture and some hairbands.
Dos
 

Using your tangle teezer brush right to the root to ensure root to tip is detangled

 

Tie your hair up in a low pony tail or braid when you go to bed

As the extensions grow down feel through the bonds/links and pull apart any that may have joined together to avoid matting
When swimming use a swim cap
We recommend you use an oil on the extensions, 2 we use in the salon is Argan Plus and Aussie 3-minute miracle oil
Use a good moisturising shampoo and conditioner, it is real hair and requires the same attention as your own hair
Ensure you trim your natural hair when the extensions are removed, you need to keep the maintenance of your hair up to so you are encouraging its growth
Don'ts
 

You must never use volumising products on the extensions 

 If 

you want to use it on the remainder of your natural hair then tie the extensions out of the way first

Volumisers can create tangling and matting 

 

Do not wash the extensions in the bath, they should be washed flat and kept as smooth as possible so the shower is preferable

When straightening hair with fusion bonds make sure you avoid the bonds so you don't melt them
Don't go to bed with wet extensions
We recommend you do not remove extensions yourself
You are unable to see what you are doing and are at risk of pulling your own hair out
With all the above said the most beautiful hair can be created with extensions as you can see from the images below. If you are interested, you would need a consultation to ensure the correct colour is matched to your natural hair. A fitting takes approximately 2 hours and a removal takes from an hour to an hour and a half. You should be warned the removal is not the most comfortable process but the better cared for they are the easier it will be. Extensions last around 3 to 5 months, again, this depends on how you look after them and how fast your hair grows. Do not be surprised if within this time a few extensions come lose and fall out, this is normal. 
I hope that all this info helps you decide if extensions are right for you and if they are how you can look after them.