I am a big fan of dry shampoo! It gives me an extra 15 minutes in bed in the morning which I very much appreciate. For those of you who are new to dry shampoo I will take you through 4 that I have tried and tested and how I rate them and why. 
The 4 products are:
Super Drug Dry Shampoo, 150ml, £1.99
Batiste Dry Shampoo, 150ml, from £2.00
Trevor Sorbie Dry Shampoo, 200ml, £5.70
Label M Dry Shampoo, 200ml, £8.50

Super Drug – 2/5
This product is the best value and easy to find either online or in store. But unfortunately for me this product was heavy and sticky on my hair, leaving a coating on my hair that if you aren't careful is noticeable.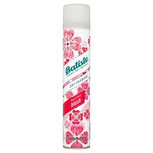 Batiste – 4/5
The most popular dry shampoo that I'm sure you have all heard of which again is easy to buy both online and in all highstreet drug stores or supermarkets. Available in various sizes from your 100ml travel size to your large 400ml can. This product is great and I use it most regularly out of the 4 products. If used too many days in a row you can get a build up and feels gritty but this isn't the products being bad but my over use. This product is great if you have run out of your root lift products (which you can read about in a previous blog). The only reason I have scored in a 4 is because for daily use when I don't need added root lift or hold I prefer a lighter product. 

Trevor Sorbie – 4/5
This is a great lightweight dry shampoo that leaves no heavy or sticky feeling. It is a dry shampoo not a root lift so does exactly what it says on the tin which I like for day to day use. It is harder to get hold of but can be bought online or in a Trevor Sorbie Salon.

Label M – 5/5
Both light and a good amount of root lift, great for both day to day use or your evening hair. Not only do I love this product but love some of the other products from that range. This is available online from a few different websites.